Kona Blue Farms 3,500mg CBD 4oz Cream
Regular price
$129.00
Sale price
$70.00
Unit price
per
Sale
Sold out
Kona Blue Farms 3,500mg CBD 4oz Cream
Directions for Use: Apply in a circular motion, let set for a few seconds. Repeat as necessary but not more than 3-4 times per day.
WARNING: CONSULT WITH A DOCTOR BEFORE USAGE. NOT RECOMMENDED IF PREGNANT OR BREASTFEEDING. DO NOT use if you have health, heart and/or breathing issues. DO NOT use if allergic to hemp, CBD or related Products. This statement has not been evaluated by the FDA. This product is not intended to diagnose, treat, cure, or prevent any disease. 
Certificate of Analysis can be viewed here: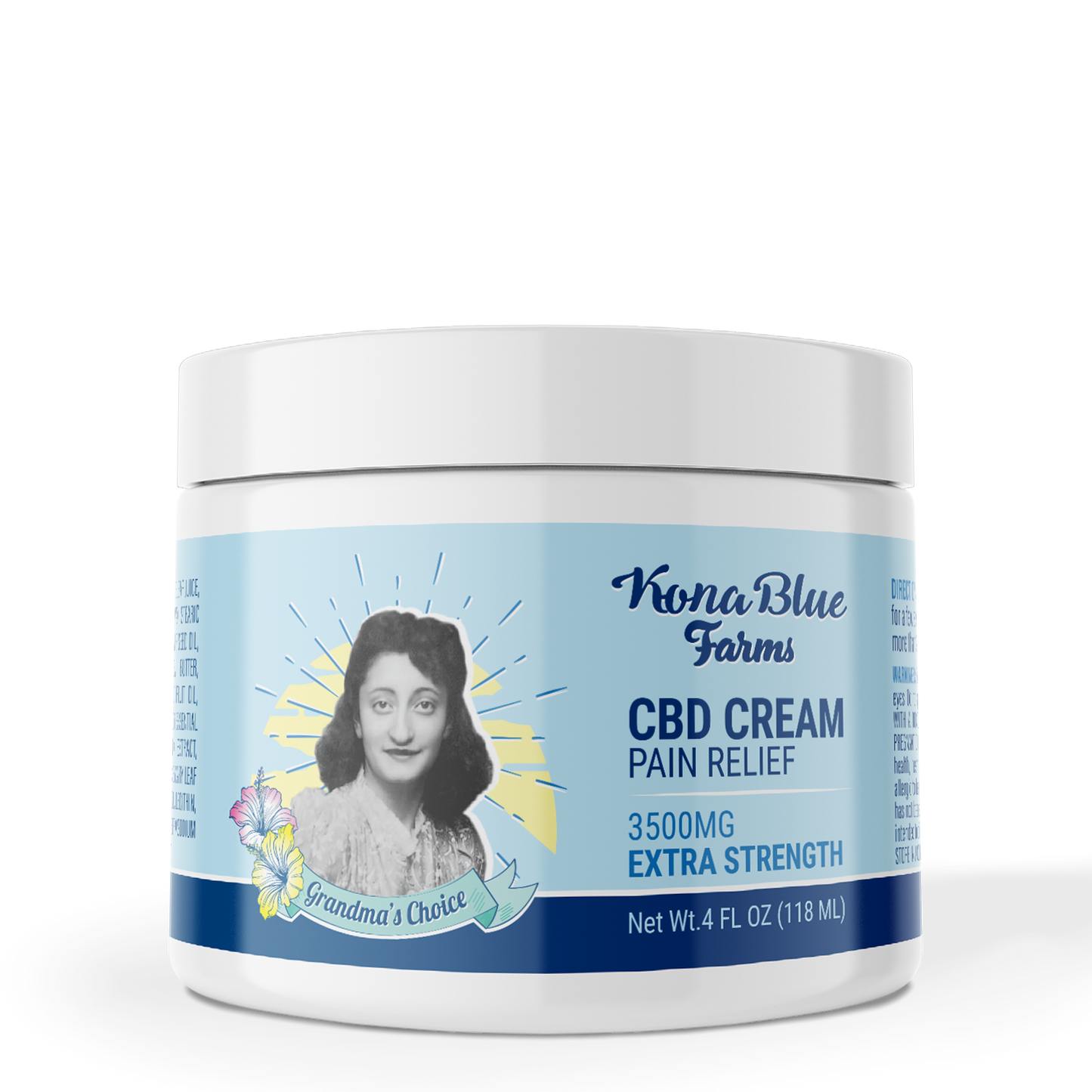 Kona Blue Farms 3,000mg CBD 4oz Cream?
Kona Blue Farms 3,000mg CBD 4oz Cream is the best of all the others I've tried. As a retired Veteran I have lost of aches and pains. This really works the best
.
Best pain cream!
I thought the 1000 mg pain cream was helpful until I tried the 3000 mg pain cream. I have severe osteoarthritis in both of my knees as well as chronic foot pain. After using this, I've been able to get back to hiking golfing and even pickle ball!
Great Product!
I suffer from occipital neuralgia and osteoarthritis in my neck. This product works wonders. Just rub it in and wait about 30 minutes. Totally takes the pain away. What a lifesaver as opposed to taking harmful pain pills. Highly recommend this product!
Magnificent results!
Can't say enough positive things. Massage the cream in and I am able to move my shoulder or knee at will!! Without pain!
Grandma's Choice
Grandma's Choice is an amazing product! It relieves pain quickly from arthritis and muscular tightness or pain. We find it especially helpful for relief of back, shoulder and neck pain. 5 STARS!!